Many of you know that a few years ago I built a motorized bicycle. It has been a lot of fun and 100mpg has been great, but as I get older I decided that I like suspension so I sold this bike for $300 this past Saturday.
Before I sold that bike I picked up this "handyman special" from a local Honda dealer for $75. Somebody turned it in to buy new motorcycle. The dealership said they won't do any work on these chinese bikes and try to get them running because they can't put a warranty on them. All he could tell me is that it had no spark. I took it home last Thursday and did some electrical troubleshooting on Saturday. Borrowed a friend's 5 pin CDI and it fired right up and runs great. Just have to do some plastic fixing sometime in the future, but for right now it runs great. Hydraulic disc front brakes, suspension and 17" wheels. Should still be able to get 80-90mpg.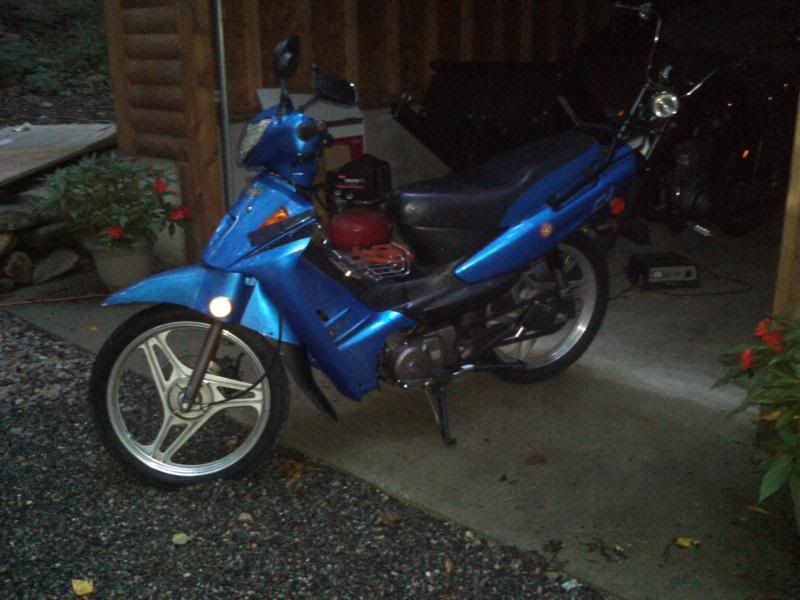 Now for the YJ. I haven't really started doing any work on it, but I've been collecting parts. I have a Waggy 44 for the front with spool and chromoly shafts along with a welded 8.8 with 4.88 gears to put in it, both already set up for a YJ SOA. The 8.8 is going to be converted to ARB prior to install. Also have custom cage, UCF high clearance skid, NP231 w/SYE and Terra 2-low kit, 35x12.5x15 TrXus MTs, tube fenders front and rear and a bunch of other stuff. I have to run electricity to the barn next month and then the Jeep will be my winter build. Here are a couple pics.